Hitchcock's 1834 Geological Map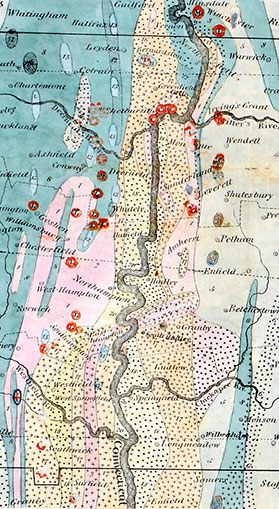 This 1834 geological map of Massachusetts is the second edition of the original 1832 map, which appeared in Edward Hitchcock's Report on the geology, mineralogy, botany, and zoology of Massachusetts, published in 1833. Hitchcock continued to revise the map up to the publication of the Final Report on the Geology of Massachusetts in 1841.
Hitchcock was appointed by the Governor's Office and the Massachusetts State Legislature to conduct the survey, the first one of an entire state conducted at public expense. He traversed the state on foot or by horse, often sleeping outside at night. He was sometimes accompanied by assistants, including artists, among whom were his wife, Orra White Hitchcock, a student, Henry van Lenneps, and a "Miss M____" whose name remains unknown. Each map was hand colored, so there are always slight differences among them. This one may have been done by a Miss Doolittle, who made her living by coloring maps and other work at her father's engraving business.
The map shows 22 geological formations and uses symbols to locate deposits of plumbago (today called graphite), coal, iron, lead, copper and manganese. It was published by Pendleton's Lithography, Boston. The size is 24.4 x 18.5 inches.