Backdrops
Middlebury College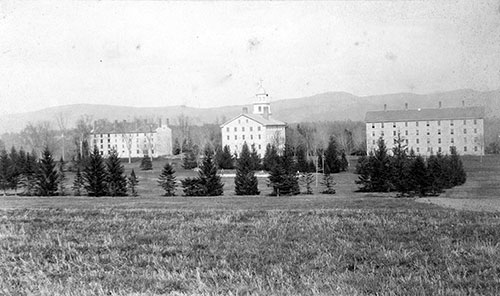 Established in 1800, Middlebury College was the first college in the state of Vermont. In common with other American institutions of higher education in this period, Middlebury attracted young men expecting to become ministers, lawyers, or physicians. A few years after he plowed up the granite slab with the intriguing "Noah's Raven" marks we now know to be dinosaur tracks, Pliny Moody of South Hadley, Massachusetts, was one of five students who traveled from western Massachusetts to attend this new college nestled in Vermont's Champlain Valley.
Like the other freshmen in the class of 1810, Pliny was expected to have attended a grammar school or have been tutored in Latin, rudimentary Greek and common arithmetic. Middlebury College's first president was Jeremiah Atwater, a graduate of Yale and already at age twenty-seven known for his impressive command of classical languages.
The traditional curriculum Atwater introduced may have appealed to Pliny and his classmates, several of whom would attend more conservative theological seminaries at Andover, Massachusetts, and Princeton, New Jersey. Some would go on to serve as missionaries in the Middle East as well as the United States.
Today, Middlebury College is a co-educational liberal arts institution with a 200-year history of academic excellence. It also has the distinction of being the first American college to graduate an African American student, Alexander Lucius Twilight, in 1823.