People
Benjamin Silliman 1779 - 1864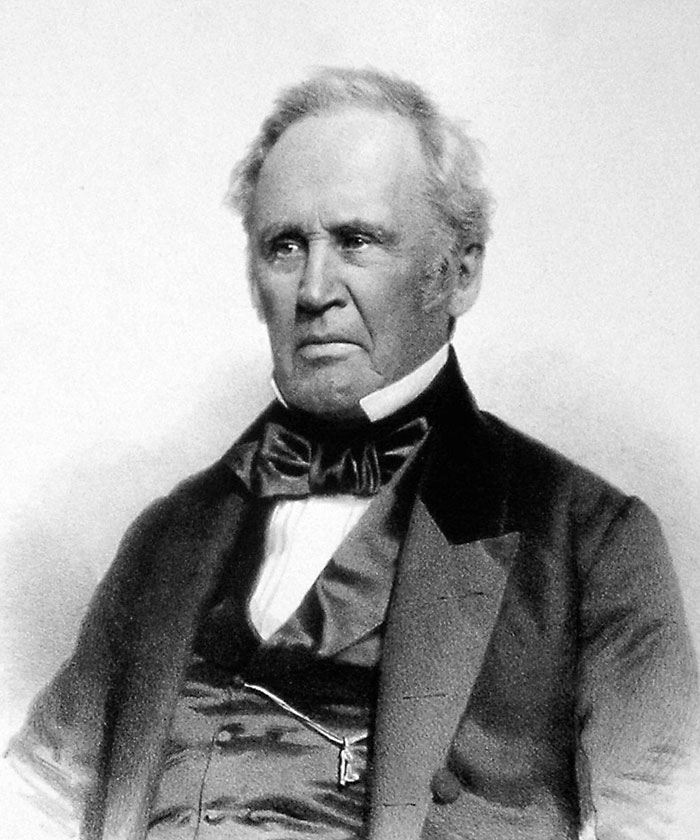 Benjamin Silliman was born in North Stratford, Connecticut. His father, a Yale graduate, was a general in the Revolutionary War. The family was comfortably prosperous. They were slaveholders, although Silliman later came to oppose slavery. He married Harriet Trumbull, a daughter of Connecticut's Governor Jonathan Trumbull, Jr., whose father had also been governor of that state. Through this marriage, he became a brother-in-law to Daniel Wadsworth, founder of the Wadsworth Athenaeum in Hartford, Connecticut, and patron of Thomas Cole and other members of the Hudson River School of landscape painting. When Harriet died in 1850, he married a widow, Sarah Isabella (McClellan) Webb, in 1851.
He attended Yale University and began teaching chemistry and natural history there in 1802, when he was only 23 years old. He was given leave of the college for two terms to study chemistry at the University of Pennsylvania, returning to give he first chemistry lectures at Yale. He then spent two years studying in England and Scotland, where he attended the University of Edinburgh.
On his return to Yale, he began in earnest to establish the sciences in the curriculum there. In 1818, he founded the American Journal of Science, which published letters and articles in all sciences. The journal was highly acclaimed worldwide and is still in publication today, although it is now solely devoted to geology. Over the years, he amassed what would become the most important and most expansive mineral collection in America, taught at the medical school, was involved with the Sheffield Scientific School. Silliman retired from Yale in 1853, but continued to teach mineralogy and geology for another two years.
He was elected a member of the American Antiquarian Society in 1813, an Associate Fellow of the American Academy of Arts and Sciences in 1815, and was appointed one of the corporate members of the National Academy of Sciences by the United States Congress. He was also a member of the American Association for the Advancement of Science.