People
Edward Hitchcock 1793 - 1864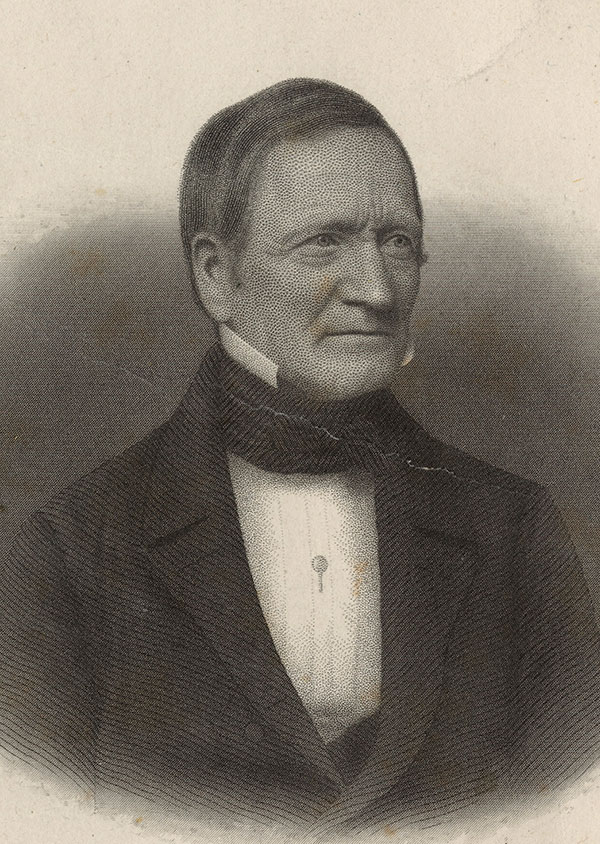 Edward Hitchcock was one of the most prominent scientists in the United States during the middle third of the 19th century, yet there is no full biography of him. He is of increasing interest to scholars, because of his serious commitment to science, especially geology, and equally serious commitment to evangelical Christianity.
He spent all but the first four years of his career as professor at Amherst College, in Massachusetts, including ten years as its president. He was official geologist for the state of Massachusetts and a founder of scientific institutions, officiating in 1840 at the first meeting of the Association of American Geologists, which later became the American Association for the Advancement of Science. As a Congregational minister with a commitment to biblical Scripture as well as a scientist, he saw himself as a bridge between Christian believers and geologists, interpreting Scripture (especially Genesis) in a way that acknowledged vast, indeterminate amounts of time for the creation and shaping of the Earth before it was peopled.
By his own estimate, he wrote 8,000 pages of sermons, scientific articles (mostly on geology), religious articles, books, and tracts over his lifetime. Most of the books and papers are held in the archives at Amherst College. A few letters are at other institutions. The Archive and Library at the Pocumtuck Valley Memorial Association, located in the original Deerfield Academy building of his hometown of Deerfield, Massachusetts, holds various other family papers and items.
He was born and raised in Deerfield, the youngest of Justin and Mercy Hitchcock's five children. Justin was a hatter who made an adequate but by no means luxurious living. Justin was musical, clever with his hands, wrote poetry, and had an intellectual bent. He did not own land to farm, but they had a kitchen garden and animals, and one of his sons rented land to farm when he was old enough. Mercy, nee Hoyt, came from one of the better-off families in town. One of her brothers, Elihu, was in the Massachusetts State Senate and another, Epaphras, was a prominent military historian and amateur scientist. Unfortunately, little is known about Edward's mother, but the accomplishments of her brothers showed Edward a life that appealed to him more than farming or becoming a small tradesman. As it turned out, Edward never did think small.
Edward and his siblings were among the first to attend Deerfield Academy, which is today a private prep school. All five children attended the academy when it opened its doors in 1799, although it is possible that only the boys graduated. Edward was also one of its first "preceptors" (headmasters) to the male students. It was there that he met the woman who became his wife, Orra White, who was teaching the females. They married in 1821.
Religion was important to Edward starting around 1814, when he suffered a case of mumps, a rather common disease at a time when there were no vaccines to protect against it. Up until then, he had been a believer in God more by default than by conviction, but illness brought the reality of death home to him. In 1815, a close friend who shared his attitudes underwent a deathbed conversion. That and the example of Miss White turned Hitchcock decisively away from Unitarianism and toward his father's conservative orthodoxy.
The illness led Hitchcock to become a pastor. After establishing a correspondence about minerals with Benjamin Silliman, professor of chemistry at Yale College, he moved to New Haven for a few months to study for the ministry. He was ordained, and for the first four years of marriage was pastor at a small church in the village of Conway, Massachusetts. However, he discovered that the calling did not suit him well, after all. When offered a position teaching chemistry and natural theology at the brand new Amherst College, he accepted. He and Orra and their infant daughter moved to Amherst.
Amherst gave both Hitchcocks ample avenue for their religiosity, since many of the students were preparing to become missionaries to fan out across the world. Along with his academic work, Hitchcock continued to write and deliver sermons and Orra led prayer meetings at their house on Monday nights. It was the perfect spot for the Hitchcocks' spiritual, intellectual, and family lives. The children went to the privately run school of Helen and Emily Nelson, daughters of a Baptist minister, and then to Amherst Academy. The family went to First Church Meetinghouse. Edward joined in the life of the town, attending town meetings, and presiding over them when called upon, and leading the procession for the annual cattle show.
This website gives only a hint to the rich life of Edward Hitchcock, pastor, scientist, scholar, author, surveyor, and popularizer of science on the lyceum circuit. He devoted his life to Amherst College, to his religion, to his science, and, not last, to his wife and children. He died in February 1864, less than a year after the death of his beloved wife.