People
Orra White Hitchcock 1796 - 1863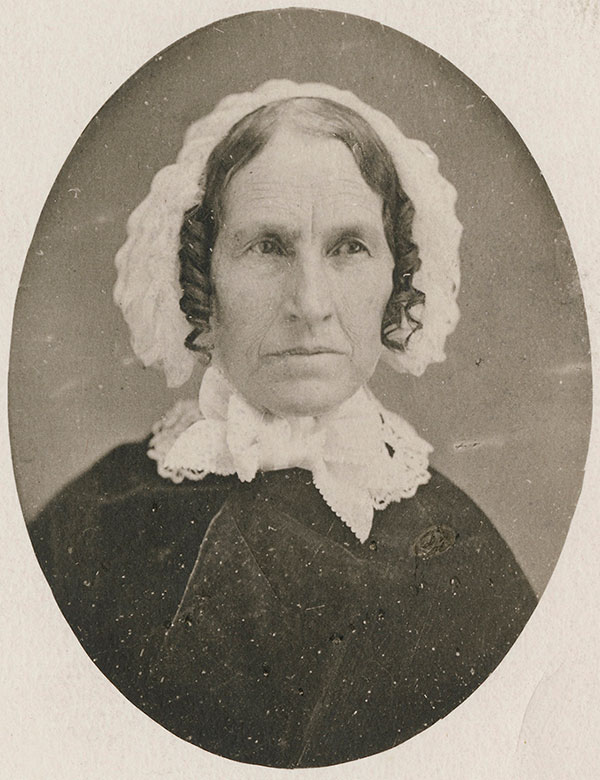 The life of Orra White Hitchcock is far less well documented than that of her husband, the geologist, minister, and educator Edward Hitchcock. Aside from two notebooks from her student days, a handful of letters to family and friends, two short diaries of travels to Virginia and Europe, and miscellaneous other papers, most of what she left behind is her art.
Most of her artwork fixes on nature: botanical watercolors, landscape drawings, and the geological and paleontological illustrations she created for her husband's publications and classroom use. There are also a few pictures of people, generally not portraits of people she knew, but faces as she imagined them, for example, of the Empress Marie Louise of France. There is no way to know what she would have done in her artistic life, or whether we ever would have heard of her, had she not married Edward Hitchcock, a husband who greatly appreciated her work, or if a long eulogy or if a long eulogy had not been written shortly after her death on May 26, 1863.
Orra White was born on March 8, 1796, to a comfortable farming family in South Hadley, Massachusetts. Her parents were Jarib and Ruth (Sherman) White. Of six children, only Orra and two brothers lived to adulthood. She was tutored at home along with her brothers and then attended a few academies, which was not an unusual practice at the time among young ladies of good family. What was unusual was the seriousness of her scholarship. Her parents were active supporters of education, making generous donations to Amherst Academy and, later, to Amherst College. It is likely that they were very proud of their accomplished daughter.
Much of what is known of Orra's life appears in the stories on this website. She taught at Deerfield Academy for five years and for a time at Amherst Academy, before marrying Edward Hitchcock. After marriage, she stopped teaching in the classroom, but still lived an active intellectual and social life.
While Edward was a professor at Amherst College, the Hitchcock home hummed steadily along. Orra led prayer meetings there and held fortnightly receptions for students, faculty, and citizens of the town. She mended student's clothing with a sewing circle and did charity work. She saw to the boarders, who were often tutors at the college. She entertained visitors, sometimes rather prestigious ones, who came to see her husband about rocks and fossils or religious or educational business. She joined the faculty and other faculty wives in the basic labor of laundering and cleaning for Commencement and other ceremonial occasions. Periods of quiet must have been rare. When traveling in Europe in her mid-50s, Orra was flummoxed when she had nothing productive to do.
Amid all this activity, her children were central to her life. Her firstborn died before turning two, and in 1832 another infant did not live long enough to be named. However, the other six children, two boys and four girls, made a lively household. Edward and Orra provided a life for their children that stimulated their minds and enthusiastically embraced art, music, and culture as much as it did religion. The children went to the privately run school of Helen and Emily Nelson, daughters of a Baptist minister, and then to Amherst Academy. Orra taught the girls to draw and paint. All of the children contributed to family life by performing chores.
Somehow, with so many demands on her time and attention, she managed to produce a large body of art: between 1830 and 1832, she prepared nine regional landscapes and four illustrations of fossils for Edward's Report on the Geology, Mineralogy, Botany, and Zoology of Massachusetts, all while tending to three very young children (and losing the unnamed infant in 1832). She seems not to have had a studio, so we can only imagine her working at a kitchen table, perhaps, or she may have had someone to tend to the children while she stole a few hours to draw. She must have had use of a larger space on campus when she created the big pieces on linen for Edward's classroom. Many of them were several feet long, although the 70-foot Iguanadon was the only truly enormous one. The classroom pieces are undated, assumed to have been created between 1828 and 1840.
At age 59, she took a bad fall from which she never fully recovered, although that did not keep her from traveling to other towns in Massachusetts or from visiting her children. When Orra died on May 26, 1863, she was surrounded by her family, all but one whom she had encouraged to slip away for a while to run an errand.
It is unfortunate that the only known photographs of her were taken late in life. As was the case so often in those days, she is unsmiling, but still, her intelligence shows through. Historical records are never complete, and it could be wished that we knew more about Orra White Hitchcock, but clearly she was a remarkable, accomplished woman who managed to combine deeply held Calvinist beliefs with a light heart, a sense of humor, a strong work ethic, artistic talent, deep love for her own family, and a warm, unrestrained delight in other people. It is quite a legacy.