People
Thomas Tracy Bouvé 1815 - 1896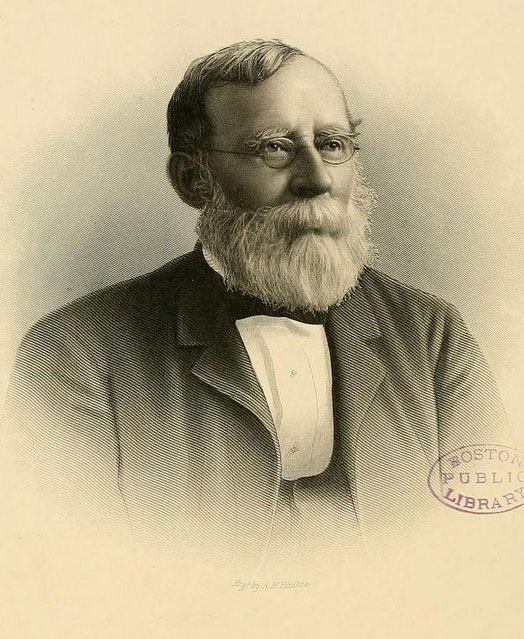 Thomas Tracy Bouvé was an amateur mineralogist, geologist, and paleontologist in Boston, Massachusetts. Through the Boston Society of Natural History (BSNH), Bouvé became acquainted with the work of James Deane and Edward Hitchcock as they investigated the fossil footprints in the Connecticut River Valley.
Bouvé was born in Boston, the son of a cabinetmaker. At fifteen, he left high school to work, trained as a bookkeeper and accountant, and eventually pursued a successful business career in iron manufacturing. He married Emily G. Lincoln in 1839, and settled in the city of Hingham, on Boston's South Shore.
Despite his lack of formal education and the demands of his career, Bouvé cultivated an early passion for mineralogy through the BSNH, which he joined in 1834, at the age of nineteen. He later became a member of the American Academy of Arts and Sciences and the American Association for the Advancement of Science. Over the course of five decades, he worked on the collections of the BSNH and held a number of positions, including Curator of Geology and President.
When James Deane died in 1858, leaving his report on the footprints unfinished, Bouvé assembled Deane's notes and pictures into a coherent work, Ichnographs from the Sandstone of Connecticut River. He enlisted the assistance of Edward Hitchcock and Roswell Field, a farmer who had supplied fossils to Deane, to advise him on the project. Two other BSNH members, Augustus Gould and Henry Ingersoll Bowditch, also assisted. The work was published in 1861, under an arrangement with the Smithsonian Institution and Little, Brown Publishers.
Bouvé's own publications include an account of the BSNH's first fifty years, published in 1880; a history of Hingham; and scientific papers on various topics. His later work focused on the geology of the Boston Basin and the South Shore. Colleagues named an extinct glacial lake on the South Shore "Lake Bouvé" in his honor.
After Thomas Bouvé's death on June 3, 1896, Charles James Sprague, curator of botany at the BSNH, praised him as "a fine example of the amateur naturalist and what this class has done for the advance of science in this country."