People
Thomas Cole 1801 - 1848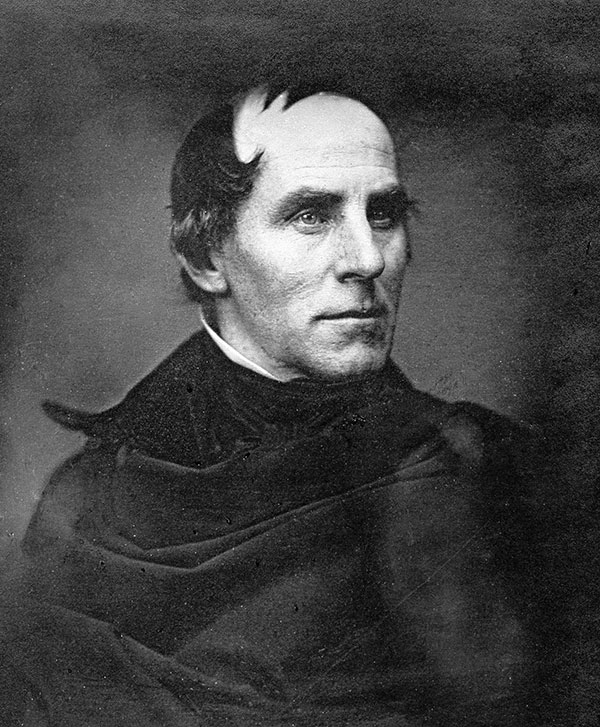 Thomas Cole, the acknowledged founder of the Hudson River School of artists, was the premier landscape painter of his day. Far more cerebral than those who had come before him, he used landscape art as a means of upholding traditional beliefs, warning Americans of the dangers of material progress, unlimited democracy, and expansionism, which he believed were rampant in the Jacksonian era.
Born in 1801 in northwestern England, Cole emigrated with his family to the United States in 1818. During the early years he worked as an itinerant artist in Philadelphia and Pittsburgh, Pennsylvania, and Ohio. Although primarily self-taught, Cole worked with members of the Philadelphia Academy, which included his paintings in their exhibitions.
In 1825, he discovered the haunting beauty of the Catskill Mountain wilderness of New York. As the first artist to depict this region, he painted its most spectacular sites, including Kaaterskill Falls, commissioned by Daniel Wadsworth in 1826, in which he eliminated all signs of tourism and presented images of the pristine wilderness of the past. His exhibition of small paintings of Catskill landscapes came to the attention of prominent figures on the New York City art scene, including Asher B. Durand, who became a life-long friend. His fame spread. While he was still in his twenties, Cole was made a fellow of the National Academy.
The older American painter John Trumbull (1756 –1843) was among the first to recognize Cole's genius. In 1825, Trumbull introduced him to his niece's husband, Daniel Wadsworth, a wealthy patron of the arts in Hartford, Connecticut. A shared exposure to British landscape theory proved a strong bond between Wadsworth and Cole. Wadsworth became Cole's most important early patron, and the two men remained close friends and correspondents until their deaths.
In 1832, Cole established his rural studio in Catskill, New York, when he rented a small outbuilding at Cedar Grove, now the Thomas Cole National Historic Site.
In May of 1844, Cole agreed to accept Frederic E. Church as a student in his studio. Church, who became one of the most famous of the next generation of Hudson River School painters, studied with Cole until June 1846.
Thomas Cole died in the Main House at Cedar Grove on February 11, 1848, after a short illness.