Backdrops
The Wadsworth Atheneum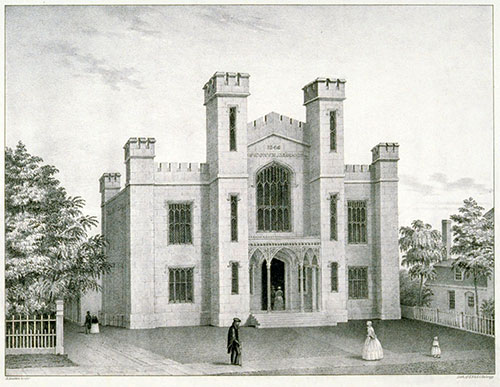 Daniel Wadsworth was an amateur artist and architect from Hartford, Connecticut. He was brother-in-law to Benjamin Silliman, the editor of the American Journal of Science, through their marriages to daughters of the state's Governor Jonathan Trumbull. The men were highly compatible, traveling together to such sites as Niagara Falls and the White Mountains to sketch landscapes. Like Silliman, Wadsworth came from a prominent, well-off family whose Puritan roots went far back into 17th-century New England. Also like Silliman, as a young man he toured Europe, although instead of going alone for purposes of study as Silliman had, he accompanied his father on a tour with the goal of acquiring European cultural polish in manners and art appreciation.
Wadsworth's commitment to raising the spiritual and cultural level of Americans is evident in his summer estate on Talcott Mountain, just west of Hartford, which he bought in 1805. With John Trumbull, another relative through his wife's family, he built a 55-foot tower on the mountain in 1810 (and another in 1839, after the first was destroyed), and opened his property to the public so they could enjoy the uplifting, spectacular view—despite his wife's complaint that having strangers on the estate made her feel trapped in the house.
Wadsworth is remembered best as one of the first American patrons of the arts, both for founding the Wadsworth Atheneum in Hartford in 1842, and for his support of Thomas Cole and other artists of the Hudson River School, whose paintings formed the core of the original collection. He initially planned to open only an art museum, but was persuaded to create the atheneum instead, with a broader mission that included a library, works of art and natural history, and public education. An excellent collection of Hudson River School paintings can still be viewed at the Wadsworth Atheneum Museum of Art today.