Backdrops
Mount Holyoke Female Seminary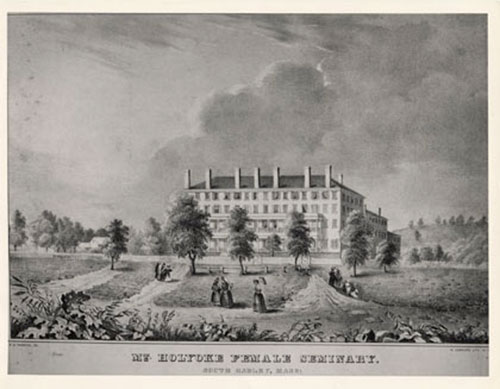 Mount Holyoke Female Seminary in South Hadley, Massachusetts (today, Mount Holyoke College), welcomed its first class in 1837. The school's founder, Mary Lyon (1797-1849), drew upon her many years of experience teaching and administering schools for young women as she realized her vision for formal post-secondary female education. In the process, she created a legacy of women's education and scholarship in the sciences that persists to the present day.
Born in Buckland, Massachusetts, in 1797, Lyon grew up in reduced circumstances. She was intellectually curious, hard-working and and a devout Protestant. All three of these traits were central to her vision of establishing a women's collegiate institution accessible to girls from poor and more well-to-do families. Her determination may have been her greatest asset, as she struggled to raise funds and appeal to benevolent donors in the midst of an economic panic and subsequent depression of the 1830s.
Some historians have suggested that Mary Lyon intentionally avoided calling her proposed school a college at a time when women were customarily barred from male-dominated educational institutions. (Oberlin College in Ohio, established as a co-educational college in 1833, was the exception that proved the rule.) Lyon's decision may also have reflected her belief that educated women were particularly well-suited to be effective teachers, minister's wives and missionaries. In any case, the curriculum and academic rigor of the Mount Holyoke Seminary made it a leader in post-secondary women's education and a continuing source of inspiration to women's colleges founded in the decades that followed. The school quickly became well known for its innovative practices and rigorous curriculum, attracting students throughout the region, including Emily Dickinson from nearby Amherst.
Of particular interest was Lyon's determination to include science in the curriculum of the fledgling school. To graduate, students had to pass a minimum of seven courses in science and mathematics, a highly unusual requirement for the time, and Lyon herself taught chemistry. Hands-on laboratory experiments, as well as field excursions to collect and observe phenomena and specimens introduced experiential learning in tandem with classroom lectures, approaches that would come to define female education at Vassar, Smith, Wellesley and other women's colleges. The focus on science reflected Lyon's appreciation for nature and her religious worldview, combining the scientific study of nature with spiritual refreshment and revelation.
Mary Lyon, like Edward Hitchcock of nearby Amherst College, celebrated what she believed to be the essential unity of science and religion. Not surprisingly, Hitchcock was a frequent lecturer at Mount Holyoke, where students studied geology and learned about the fossil footprint discoveries in the Connecticut River Valley. Dwight Hall, erected in 1904, was built on land donated by Elihu Dwight, who had given Edward Hitchcock the fossil tracks called "Noah's Raven" first unearthed by Pliny Moody in South Hadley many years before.