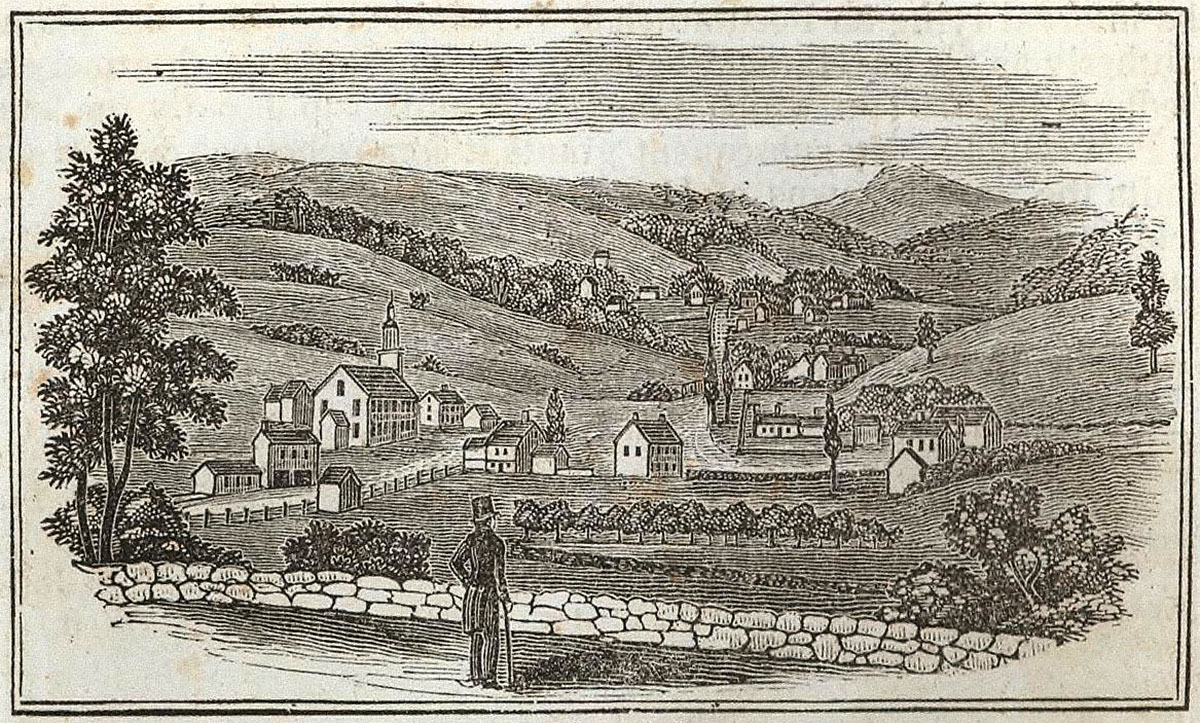 In June of 1821, soon after their wedding, the Hitchcocks moved to Conway, a town just west of Deerfield. Now a newly ordained minister as well as a new husband, Edward was taking the pulpit at the First Congregational Church, attended by a respectable portion of Conway's 1,700 souls. Orra began her new life as minister's wife. Nearly a year later, they had their first child, a boy they named Edward.
Reverend Hitchcock preached on Sundays and spent the rest of his week writing sermons, tending to his parishioners, and taking care of church business. It took time and stamina to travel by foot or on horseback to the scattered clumps of farms, small manufacturing enterprises, and homes in the town's nearly 40 square miles, especially slogging the unpaved, hilly roads in winter snow and spring "mud season".
As was common at the time, Hitchcock regularly traded pulpits with other Protestant ministers, although he refused the Unitarians, emphatically rejecting the faith he once considered joining. His sermons lasted well under an hour (unlike some churches, where sermons lasted half the day) and were deeply concerned with sin and the afterlife. His Thanksgiving sermons were dedicated to nature themes, however, with a distinctly scientific flavor that might have left his congregation in a mixture of confusion and delight.
Orra soon became a welcome presence and friendly face in town, talking easily with the village's hard-working farmers, mill workers, and craftsmen. Since women did not preach in the church, she hosted weekly prayer meetings and a sewing circle at home.
Orra and Edward continued to pursue their scientific interests, collecting mushrooms and other funguses that Orra painted for a volume she called Fungi selecti picti. Her choice of a Latin name and the large number of specimens—119 mushrooms and 3 lichens—show her ambition for her illustrations to be taken seriously as scientific botanical works. She drew fossil fish and vegetation to accompany Edward's articles in the American Journal of Science, and 23 watercolors for articles on sedge grasses by Chester Dewey for the same publication. When Silliman sent Edward articles written in French, Orra translated them for him.
They produced geological maps together. Edward made the surveys on his own and drew the originals, while Orra redrew, revised, and hand-colored the final versions. Benjamin Silliman became so accustomed to her work that he said in a letter to Edward, "My respects to Mrs. Hitchcock whom I cannot but regard as a coadjutor." He also recognized her work as a distinctly feminine accomplishment: "I presume the map owes its delicacy and beauty to a hand more delicate than yours or mine."